Hibiskus tea, popularly known as kerkede, hollyhock and hibiscus tea, is a healthy herbal tea. With a flavor that is both sour and fruity, hibiscus tea is a great option when looking for something different to sip throughout the day. But there are also a number of health benefits that extend the benefits of this herbal tea far beyond its taste. In fact, people around the world have been consuming hibiscus tea for its health benefits for thousands of years.
Made from the dried parts of the hibiscus plant, hibiscus tea is dark red in color. It has sweet and sour flavors similar to cranberry and can be enjoyed hot or iced.
Made by brewing the dried parts of the hibiscus plant, hibiscus tea is said to lower blood pressure and strengthen the immune system, among many other health benefits. But keep in mind that many claims surrounding the benefits of hibiscus tea are about the ingredients in the tea, not the tea itself. (Of course, you should always consult your doctor before using hibiscus tea for any medical reason.)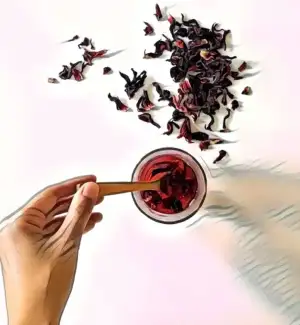 What are the Benefits of Hibiscus Tea?
Hibiscus tea has many benefits. Hibiscus tea is known to prevent hypertension, lower blood pressure, lower blood sugar levels, keep your liver healthy, help with menstrual cramps, aid depression, aid digestion and aid weight management. It is rich in Vitamin C, contains minerals such as flavonoids and has laxative properties. And it tastes delicious! Here are some potential benefits of hibiscus tea:
Loaded with antioxidants: Hibiscus tea is a great source of antioxidants and substances that remove potentially harmful oxidizing agents. Anthocyanins are what give hibiscus tea its beautiful deep, rich fuchsia color.
It can help lower your blood pressure by: Numerous studies show that drinking hibiscus tea can lower your blood pressure. Although hibiscus tea is an effective alternative to medications, you should talk to your doctor before consuming it, as hibiscus tea may interact with your current blood pressure medications, especially if you have heart and blood pressure conditions.
Strengthens your immune system:Hibiscus tea contains vitamin C and iron, which are known to support a strong and healthy immune system.
May fight cancer: Research suggests that hibiscus tea may have cancer-fighting properties due to its high content of polyphenols. But most of the research in this area is based on hibiscus extract, not hibiscus tea, so more studies are needed to confirm these potential benefits.
It can improve your liver health by:Some research suggests that hibiscus extract may reduce liver damage and improve liver health, but more research is needed to determine if the tea has similar effects.
Some studies have shown that hibiscus tea can reduce blood cholesterol and triglycerides in those with diabetes and metabolic syndrome. However, other studies have produced conflicting results. More research is needed in the general population.
Given that hibiscus tea is caffeine-free, you can drink it from morning to night without worrying about the beverage keeping you up late at night or affecting your sleep quality.
What is the Side Effect of Hibiscus Tea?​
Hibiscus tea can affect estrogen levels, which means it has an impact on both pregnancy and fertility. If you are trying to conceive or are pregnant, you should probably avoid eating hibiscus in your diet. It also lowers blood pressure, which can be harmful if you already have low blood pressure.
If you wish, our previous article How to Use Hibiscus Tea? Does it weaken? What are the Benefits?you can take a look.