You can adapt the crumbly apple cookies to your diet with its rich walnut and cinnamon flavor! You can save your tea time with a low-calorie snack with oatmeal and apple cookies. How to make apple cookies, diet oatmeal and apple cookies recipe:
Apple cookies, which we all easily make at home, can be enjoyed with a slightly crunchy taste and are also preferred for their softer taste. You will see that delicious apple cookies, which are loved in every way, are usually served as a guest treat on golden days or at afternoon tea. If you want, you can adapt the apple cookies, which are not difficult to make and are one of the types of cookies that even children love, to diet. You can make apple cookies, which are served with powdered sugar sprinkled on top, either with your own recipe or with oats, which is known for its satiating feature. When you know that 1 serving of apple cookies equals 613 calories, you can understand that this food is not so innocent! The recipe of the oatmeal apple cookie, which is close to its own taste and contains less calories, is in the details of the news…
HOW TO MAKE APPLE COOKIES? FULL SIZE APPLE Cookie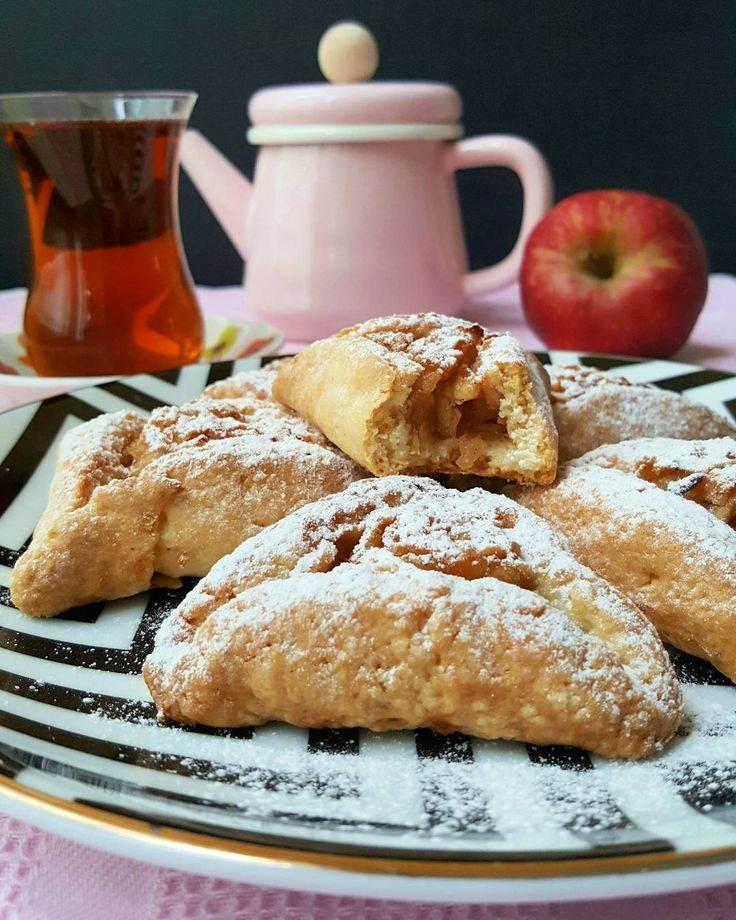 MATERIALS:
1 pack of margarine at room temperature
half a glass of milk
Half a teaspoon of oil
1 tablespoon of vinegar
1 packet of baking powder
1 packet of vanilla
2 tablespoons of powdered sugar
2 tablespoons of granulated sugar
1 egg
5 glasses of flour 200 ml
FOR INTERNAL MORTAR;
4 apples
Half a cup of walnuts
Half a cup of grapes
1 teaspoon cinnamon
2 tablespoons of sugar
FOR TOP;
Powdered sugar (after the cookies have cooled down a bit)
PREPARATION: Grate the peeled apple skins with the coarse side of the grater. Roast the grated apples in the pan until the water is gone. After it turns color, add walnuts, grapes, cinnamon and sugar and mix. Transfer to a different container to cool. (If used without cooling, the stuffing will dilute and soften the dough)
Now knead all the ingredients for the dough in a bowl. Let it rest for at least 20 minutes, then shape it and place it on a baking paper lined tray.
Bake in the oven at 180 degrees in a controlled manner, as if it will be one click more than a flour cookie, without browning the arrow. Sprinkle powdered sugar on top of the cookies you will serve. If you throw it away, do not store it in a covered container or in a stretch. Otherwise, the top sugar will melt and wet the cookie. It is enough to throw the kitchen towel from the top.
DIET APPLE COOKIES MAKING: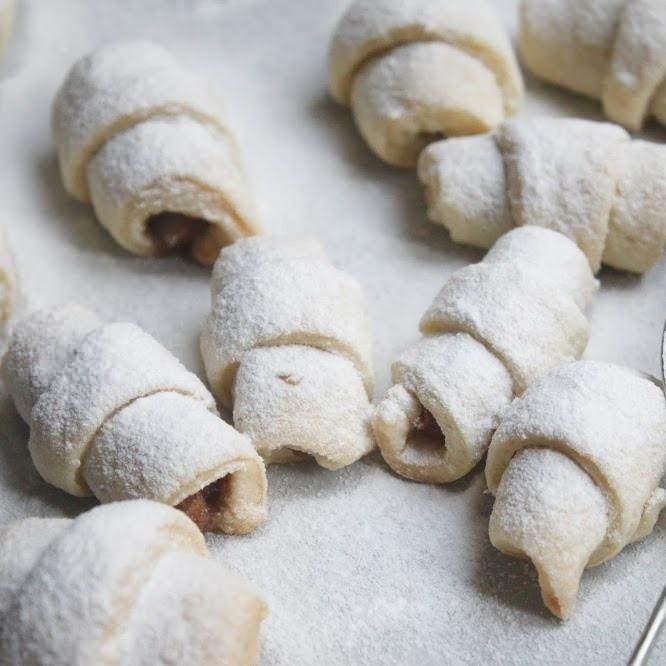 MATERIALS:
2 eggs,
2 cups of oatmeal,
2 tablespoons of honey,
1/2 cup of hazelnuts,
1 apple,
1 teaspoon of cinnamon.
FABRICATION:
Add the finely ground hazelnuts to the beaten eggs in a deep bowl. Then add honey, nuts and cinnamon and whisk. At the last stage, add oatmeal and peeled and chopped apples and mix,
Take walnut-sized pieces and make balls and arrange them on a baking paper lined tray.
Bake in a preheated oven at 170 degrees until lightly browned.
Cinnamon and Apple Cookies Recipe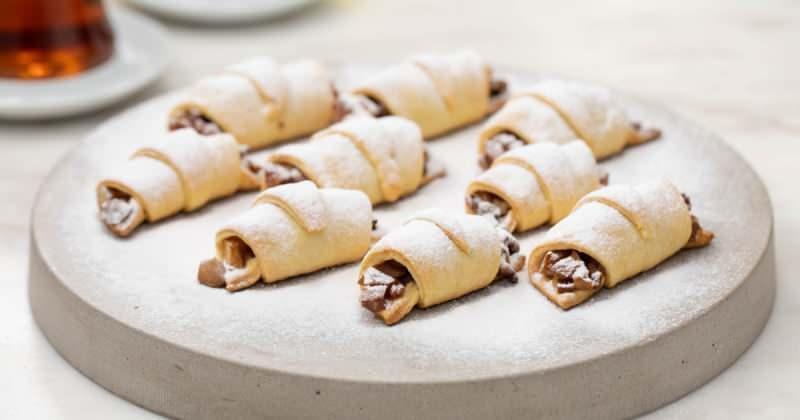 MATERIALS:
For the inside: 3 red apples, 1 tea glass of granulated sugar, 1 teaspoon of cinnamon
For the dough:
250 grams of butter at room temperature, 1 tablespoon of yogurt, Optional (Small amount of lemon zest), 1 coffee cup of powdered sugar, 1 teaspoon of baking powder
PREPARATION OF:
First of all, slice the peeled apples with the thick side of the grater and throw them into the pan. Immediately after, add granulated sugar and cinnamon and mix well over medium heat. When the apples absorb their juices and turn their colors, leave them to cool in a different bowl.
On the other hand, empty and knead all the ingredients up to the hollow coarse baking powder. After kneading, add 3 cups of flour from time to time and knead well enough that it does not stick to the hand. In the meantime, add half a glass of ground walnuts or crushed hazelnuts to the cooled filling.
Divide the cookie dough into 5 equal parts and roll them well. Sprinkle a little flour on each rounded grain and roll it out with a rolling pin. (Half cm thick) Divide the rolled dough into 4 equal parts like pizza slices. Then divide each piece in half, there will be 8 pieces in total.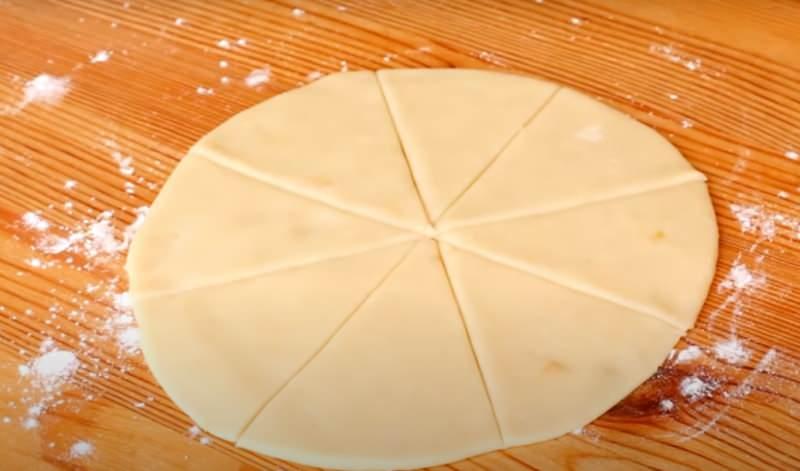 Add 1 teaspoon of inner mortar to them. From the mortar you put on the wide part, wrap it like a cigarette roll. After completing all the remaining dough in this way, your 40 cookies will be ready. Bake the cookies in a controlled manner for a total of 20 minutes in the oven at 170 degrees.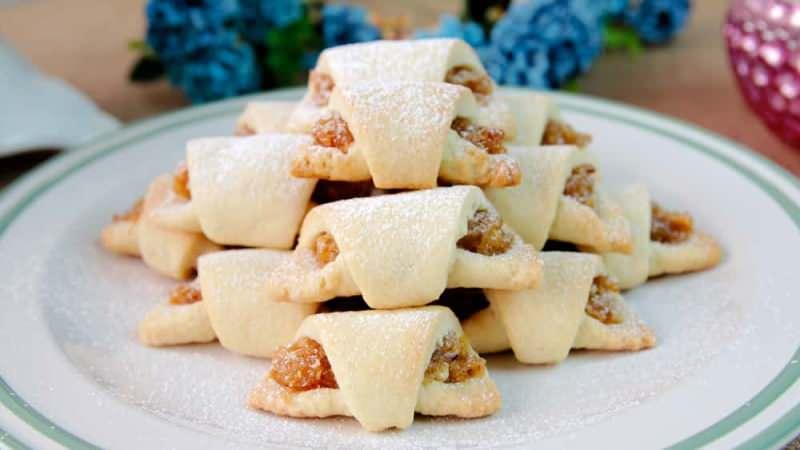 CRUSHING APPLE COOKIES FOR THE ICE BREAKER
INGREDIENTS: 250 g butter or margarine (margarine for crunch), half a tea glass of oil, 1 glass of powdered sugar, 1 tablespoon of yogurt (solid side), 1 egg, 2 tablespoons of vinegar (Apple or grape), 1 Packet of vanilla, 1 pack of baking powder, 1 cup of starch (Half wheat and half corn can be), Flour as much as it takes.
PREPARATION OF:
After grating the peeled apples with the coarse side of the grater and putting them in the pot, add 1 teaspoon of sugar. (If you are going to use the extra green apples at home to avoid wastage, you can increase the amount of sugar) After adding the sugar, fry for 15 minutes until the water is absorbed and its color turns. Add cinnamon and walnuts, cook a little more and leave to cool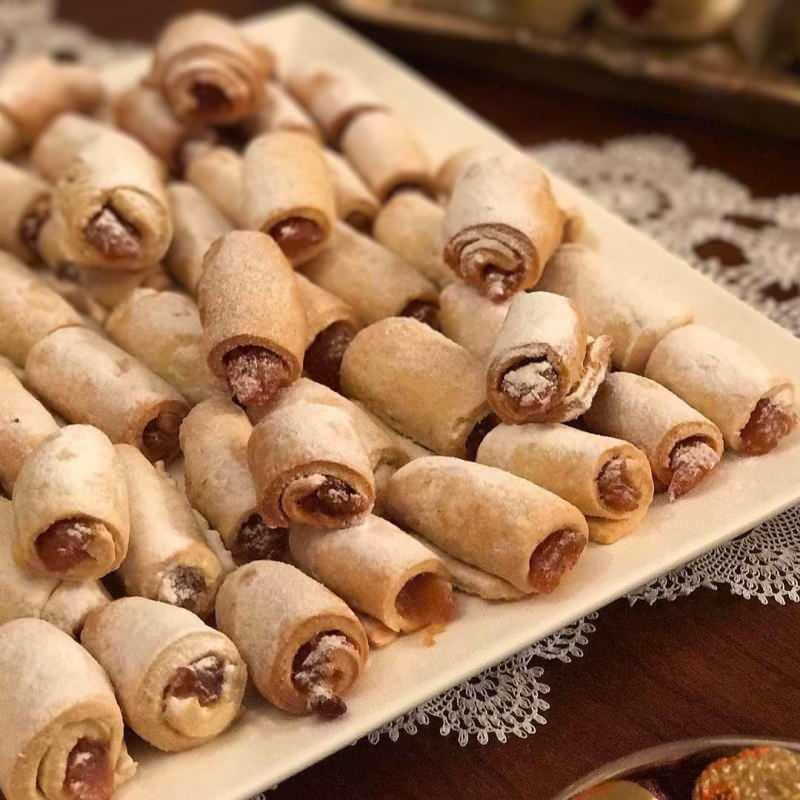 Add margarine, oil, yogurt, eggs, vanilla and powdered sugar to different bowls. Then add vinegar and immediately after baking soda and mix well so that you are identical. Then put the starch and sift the flour as much as it takes and knead it.
Peel off walnut-sized pieces from the dough and roll them out with a rolling pin the size of a tea plate. Slice into 8 pieces in total in a dough like pizza slices. Wrap it like a roll and bake on a preheated tray wrapped in greaseproof paper at 175 degrees until it turns pink.