Pasta salad, which leaves a delicious taste on the palate when consumed with tea, is one of the delicious snack foods that is not easy to give up. Pasta salad, which is consumed more frequently in between meals, can be an ideal menu meal for guests as it can be prepared easily. So if you eat pasta salad often, do you risk gaining weight? Does pasta salad make you gain weight? Does pasta salad break the diet? Low-calorie diet pasta salad recipe…
In terms of being practical and delicious, the pasta salad, which is usually prepared to serve to the guests, becomes an indispensable food, especially in the golden days. Pasta salad, which can be made with different recipes, is a snack enjoyed by almost everyone, including children. The first thing that comes to mind is whether it will gain weight because these pasta salads contain a large amount of pasta. Although pasta varieties with high carbohydrate value are not a suitable food source for diet, you can make a healthy and low-calorie pasta salad suitable for diet. You don't have to end your love for pasta with our diet-friendly pasta salad recipe. Here is an easy and practical diet pasta salad recipe…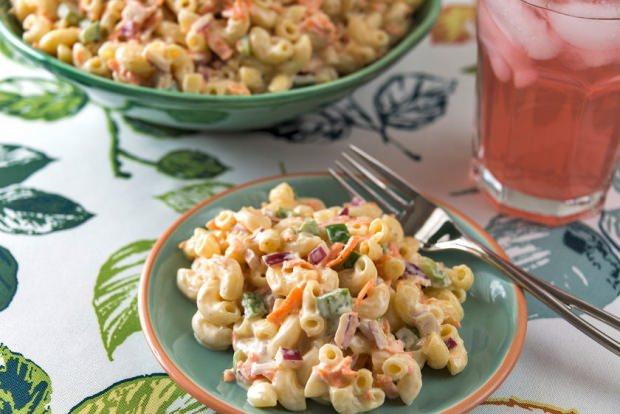 INGREDIENTS:
250 grams of pasta
-Half a glass of light yogurt
-Half a tablespoon of mayonnaise
-3 pickled gherkins
-1 small carrot
-Small amount of red cabbage
-3 sprigs of parsley
-3 sprigs of dill
-Half a teaspoon of olive oil
-Small amount of salt and spices
HOW TO:
Belli Add salt and olive oil to the water you are going to boil, during boiling. Then add the pasta and boil it until it is well cooked. After cooking, drain the water well and run it under cold water once. Put the mayonnaise, salt and yogurt and cut the red cabbage, dill parsley finely. After adding the pickled gherkins, add the grated carrots and mix well.
Bon appetit…
1 PORTION PASTA SALAD LOSE WEIGHT?
283 kcal of pasta salad, which is equivalent to 283 kcal value, can be achieved when consumed 1 portion daily or every 2-3 days. However, as with every meal, missing the measure in the things we love can cause weight gain. Therefore, consuming less and occasionally will be the best approach.
1 bowl of purple pasta salad 251 calories.