We are here with a dry fruit vegan cookie recipe that you can consume to balance blood sugar and not gain weight while dieting. Vegan cookies with dried fruits, which will be enjoyed by vegans and dieters, will be indispensable for your tea hours. So, how to make vegan cookies with dried fruits that do not gain weight? Here is the recipe for fat-free, flour-free, sugar-free diet cookies…
The dry fruit vegan cookie recipe can be a good alternative for you, who want to suppress your sweet needs while dieting and to consume different alternative foods in between meals. You can also surprise your children by adding the dried fruits you want in its content. We offer one of the most popular recipes with diet cookies, which dietitians often recommend in their nutrition programs, to your liking.
HOW TO MAKE VEGAN COOKIES WITH DRIED FRUIT?
Materials;
5-6 apricots (you can use different dried fruits according to your preference)
3-4 dates
1 cup of mulberry
1 teaspoon of water
Baking powder
Vanilla
1 tablespoon of tahini
1 cup of oats
4 square bitters
1.5 teaspoons of cinnamon
How to make dry fruit vegan cookies?
Fabrication:
–The oats are very lightly rinsed.
–Then pass the apricots and dates, which we soaked in hot water, through a rondo and add them into a deep bowl.
–Add mulberry baking powder, vanilla and cinnamon on it.
–Add water and tahini gradually to soften it.
–After forming a soft dough and shaping it with your hands, bake it at 150 degrees for 10-15 minutes.
–You can melt the dark chocolate in a bain-marie style and decorate our cookies and serve.
Enjoy your meal…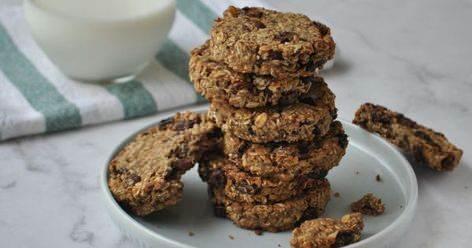 Fat-free, flour-free, sugar-free diet cookie recipe
INFORMATION:In addition to being a vegan and healthy recipe, vegan diet cookies are also among the recipes that everyone should try in terms of taste and instant sweetness.
HOW MANY CALORIES IN DRIED FRUIT VEGAN COOKIES?
Flour-free, fat-free and sugar-free cookies, which are both low in calories and high in nutritional value, are about 45 calories.