The winter season evokes a feeling of comfort with its characteristic warm blankets and hot drinks. However, while winters may be delicious and pleasant for you, they may not be the same for your body, if you don't give your nutrition the attention it deserves. A person's nutritional requirements vary greatly with the seasons, and therefore it is very important to provide your body with the right type of nutrition and nutrients in each.
It is very important to take care of yourself and your nutritional needs at every stage of life. Winters, like all seasons, can bring their own health problems and therefore one needs to regulate one's diet and nutrition.
Below is a list of the top 5 shared nutrition tips to make your winter happy and healthy.
Sweeten Your Health With Sour Vitamin C

Known for its rich antioxidant content, this magic Vitamin is a must for the winter months. Commonly found in sour, citrus-rich fruits such as oranges, lemons, kiwis and papayas, vitamin C plays a crucial role in keeping our skin healthy and glowing. Another benefit of the miracle vitamin is that it keeps common diseases and colds at bay. So increase your intake for a disease-free and happy winter.
Consume Green Leafy Vegetables

Our parents told us all this when we were kids, and it wasn't without reason. Green vegetables are rich in several important vitamins and antioxidants that are essential for the proper functioning of our bodies. For example, spinach is an excellent source of Vitamins A and C. The rich protein, vitamin, and iron content of green leafy vegetables is extremely beneficial for a variety of health conditions and also works to improve the quality and appearance of your skin. The winter season is famous for its seasonal green leafy vegetables. Therefore, you should evaluate the opportunities well and consume them well.
Spinach contains some essential vitamins such as A, B, C, E, K, zinc, magnesium and a large amount of iron necessary for red blood cells in the body.
spices​

Spices like saffron, turmeric, cinnamon, and cardamom are very helpful during the winter months as they are known to provide the body with much-needed warmth. In addition, they work to fend off illnesses that are common during the winter months, such as the common cold. Cinnamon has been used since medieval times to treat sore throat, cough, and arthritis. It contains more antioxidants than well-known spices such as garlic and thyme. Cinnamon is a classic cold weather spice.
Black pepper has been a part of Ayurvedic medicines known to relieve colds, coughs and naturally boost your immunity. This pungent spice mixed with honey is known as a natural cough suppressant.
Dried Fruits to Beat the Cold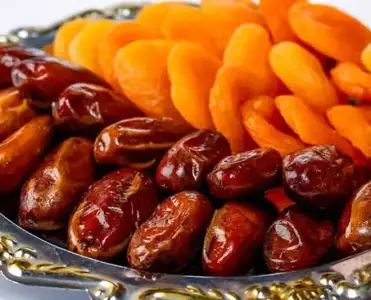 Dried fruits are also an excellent way of obtaining and maintaining warmth during the cold and dry season. Dates and dates are some of the dried fruits commonly consumed during the winter months. Both of these are rich sources of calcium and iron. They also help increase the body's energy levels and are usually consumed with warm milk.